Episode 285 :: Richard Bryan McDaniel :: Zen in the West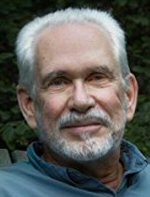 Richard Bryan McDaniel
Richard Bryan McDaniel joins us to speak about the growing of Zen in the West with his books The Third Step East, and Cypress Trees in the Garden.
When I think of Zen, my mind and heart go back to the Minnesota Zen Meditation Center, the place I was introduced to Buddhism and contemplative practice. And I have this impression of long standing tradition, of lineage in part because of the lineage papers presented during Jukai, or lay ordination. I wasn't aware at that time that Zen in America is relatively new, perhaps less than 100 years old, or less than 4% of the entire life of Buddhism since Gotama's time. Zen has been through some amazing growth in that less than 4%, it's had its share of wins and tragedies. What's particularly interesting is how this very different culture, time, and other confluence of circumstances have changed how Zen is in this world, and how the newest generation of teachers are markedly distinct from their predecessors.
Rick McDaniel was raised in Indiana and, in 1967, moved to Canada where he taught at the University of New Brunswick and Saint Thomas University before starting a career in International Development and Fair Trade. He is the creator of the Canadian YMCA Peace Medallion. A long time Zen practitioner, he is the author of five books on the subject, including "The Third Step East", "Cypress Trees in the Garden", and "Catholicism and Zen." Special thanks to John Negru for his work leading to today's interview.
So, sit back, relax, and have a nice lemongrass tea.
Podcast: Play in new window | Download
Books
Web Links
Music for This Episode Courtesy of Rodrigo Rodriguez
The music heard in the middle of this podcast is from Rodrigo Rodriguez. You can visit his website to hear more of his music, get the full discography, and view his upcoming tour dates.