Episode 298 :: Sara Rahmani :: Understanding Unbelief: Mindfulness Meditation Project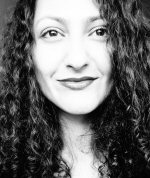 Sara Rahmani
Dr. Sara Rahmani speaks with us about her work Understanding Unbelief: Mindfulness Meditation project.
What is it like to be faced with adopting a religious belief system that's not part of your personal background? Or perhaps it is, and once there, you find an increasing cognitive dissonance with what's overtly or subtley encouraged as required views and practices? Many people like me came to Buddhism because of an interest in contemplative practice, and have found value in many of those ideas and ways of being in the world. What's most interesting to me is how that awareness growing from practice can contribute to shifting notions of identity, often from orthodox religion to secularity.
After completing her B.A. Honours in Study of Religions at Bath Spa University in England, Sara Rahmani travelled to New Zealand to begin her PhD. research at the University of Otago. She received joint supervision from the departments of Religion and Anthropology. Her doctorate dissertation, 'Drifting through Samsara,' gained an Exceptional Theses Award in 2017 Otago's Division of Humanities. She intends to publish her thesis as a monograph. Sara joined the Brain, Belief and Behaviour group at the Centre for Psychology, Behaviour and Achievement, Coventry University, as Research Associate in July 2017.
Also note that if you would be interested in participating in the research discussed in today's episode, you're a secular Buddhist or other non-religious or atheist mindfulness practitioner, you may be able to participate by filling their 20-minute questionnaire and/or contribute to their research in form of an online interview.
If you would like to participate, get started by clicking on the Participant Information Sheet.
So, sit back, relax, and have a nice Prince of Peace Organic Oolong tea.
Podcast: Play in new window | Download
Web Links
Music for This Episode Courtesy of Rodrigo Rodriguez
The music heard in the middle of this podcast is from Rodrigo Rodriguez. You can visit his website to hear more of his music, get the full discography, and view his upcoming tour dates.