Episode 303 :: Bernat Font :: Secular Mindfulness and Buddhism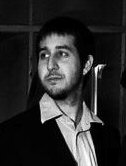 Our friend Bernat Font returns to the podcast to speak about Stream Entry as practice, and the evolution of secular mindfulness and Buddhism.
As many of you know, Buddhism is not a monolithic religion with no variation. There are lots of different branches, each with their own further unique interpretations, rituals, and ways the sasana has merged with different cultures and people. So it's always a fascinating inquiry when those from one heritage suggest we secularists can't do what their own forebears have done in merging Buddhism with our own world view and culture.
Bernat Font leads a sitting group in Barcelona, and recently finished his MA in Buddhist Studies. He is mentored by Stephen Batchelor in the Community Dharma Leadership training at Bodhi College, and he blogs at budismosecular.org.
So, sit back, relax, and have a nice Ginger Peach tea.
Podcast: Play in new window | Download
Web Links
Music for This Episode Courtesy of Rodrigo Rodriguez
The music heard in the middle of this podcast is from Rodrigo Rodriguez. You can visit his
website
to hear more of his music, get the full discography, and view his upcoming tour dates.