Episode 304 :: Jay Forrest :: Spirituality Without God: An Introduction to Bodhidaoism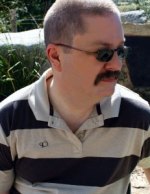 Jay Forrest
Jay Forrest joins us to speak about a contemporary fusion of Buddhism with Daoism from his book, Spirituality Without God: An Introduction to Bodhidaoism.
One of the many aspects of Buddhism I find fascinating is how it connects with and even complements other world views. I expect much of that is rooted in how the sasana is based in what people experience in life; it's less about the ideology and more about the process of living in the world, at least to me.
Today's guest, Jay Forrest, is an atheist meditation teacher with a doctorate degree in religion. He has been trained in both Zen and Vipassana meditation.
So, sit back, relax, and have a nice Midnight Oolong tea.
Podcast: Play in new window | Download
Books
Web Links
Music for This Episode Courtesy of Rodrigo Rodriguez
The music heard in the middle of this podcast is from Rodrigo Rodriguez. You can visit his
website
to hear more of his music, get the full discography, and view his upcoming tour dates.