Episode 51 :: Chris McKenna :: Paradigms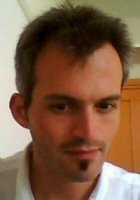 Chris McKenna
Author Chris McKenna speaks with us today about his post-apocalyptic Buddhist themed book, Paradigms.
I think it's fair to say that Buddhism is becoming something of a culturally iconic practice, even in the West. Just about everyone would recognize the Dalai Lama, the once utterly foreign idea of "contemplating your navel" is no longer so foreign. Eastern thought got lots of press with The Beatles, Richard Gere's following of Vajrayana is well known, and the new Tron movie sequel unabashedly included meditation.
The arts are clearly on board! And though it seems a shelfload of new Buddhist-themed books come out every month these days, we're not seeing many fantasy Buddhist-themed books. Many of us loved reading Siddhartha, and more recently Ko Un's Little Pilgrim. Both took their plot lines and scenes directly out of the Buddhist tradition, and have done a wonderful job of it. What we haven't seen so much of is taking these themes out of their Eastern roots, and placing them squarely in a totally different realm.
Chris McKenna was born in 1983 in Blantyre Scotland. He has a background in computer science having graduated from the University of Strathclyde, and worked for a few years in the programming industry in both Scotland and subsequently in Vienna, Austria. Chris decided to venture out and became an English language teacher in Asia after deciding that sitting behind a computer all day was not for him. Oddly enough, he now spends a lot of time behind his computer writing.
Chris plans to give thirty percent of his proceeds from his new book Paradigms – a fantasy set in a post-apocalyptic Scotland – to Book Aid International, a charity that promotes literacy in developing countries. Chris has recently been teaching English at university in Yokohama, Japan.
So, sit back, relax, and have a nice tea. Earl Grey. Hot. I know we've done it before, but that was by special request.
Podcast: Play in new window | Download
Quotes
"I should be clear, I don't know anything." — Chris McKenna
Books
Web Links
Chris McKenna Stories
Paradigms Website
Soto Zen Temples in Japan for Foreigners
Music for This Episode
Chikuzen Shakuhachi Series
The music heard in the middle of the podcast is from the Chikuzen Shakuhachi Series, Volume 1, courtesy of Tai Hei Shakuhachi. The tracks used in this episode are: