Episode 57 :: Bernie Glassman :: Socially Engaged Buddhism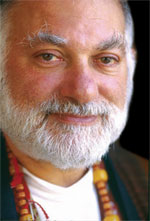 Bernie Glassman
Bernie Glassman speaks with us about Socially Engaged Buddhism, and the organization Zen Peacemakers.
There are many different ways in which our practice can show itself. We can sit with a group at a local center. Go on retreats. Reach deep states of mental calm in meditation. None of which is a bad thing. The question is, beyond feeling better yourself, what good are we doing?
The founder of the Zen Peacemakers, Zen Master Bernie Glassman, evolved from a traditional Zen Buddhist monastery-model practice to become a leading proponent of social engagement as spiritual practice. He is internationally recognized as a pioneer of Buddhism in the West and as a founder of Socially Engaged Buddhism and spiritually based Social Entrepreneurship. He has proven to be one of the most creative forces in Western Buddhism, creating new paths, practices, liturgy and organizations to serve the people who fall between the cracks of society.
So, sit back, relax, and have a nice Silver Peony white tea.
Podcast: Play in new window | Download
Books
Web Links
Music for This Episode
Shakuhachi Meditations
The music heard in the middle of the podcast is from Rodrigo Rodriguez's CD, Shakuhachi Meditations. The tracks used in this episode are: