Episode 70 :: Steve Hagen :: Faith and Belief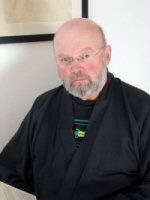 Steve Hagen
Steve Hagen speaks with us about faith and belief, a wee bit of Nagarjuna, and a big ol' rock.
Hi, everyone. Today I write this sitting by myself in the farmhouse at Barre Center for Buddhist Studies, after a week long seminar on Secular Dharma. And it was wonderful, if you ever get the chance to come out here, do. Topics were very well covered, and generated terrific energy, compassion, and community in those fortunate enough to attend.
One of the topics we were not able to cover in the short time we had together, though, was the comparison and clarification of what we mean when we speak of faith, and belief. Context, as it turns out, is pretty important! However, I did have the opportunity to speak about this with zen teacher Steve Hagen, who also happens to be in Minneapolis.
Steve Hagen has been a student of Buddhist thought and practice since 1967. In 1975 he became a student of Dainin Katagiri Roshi in Minneapolis and was ordained in 1979. He has studied with teachers in the U.S., Asia, and Europe, and in 1989 received transmission from Katagiri Roshi. He is currently head teacher at Dharma Field Zen Center. He is the author of Meditation Now or Never, Buddhism Is Not What You Think, Buddhism Plain and Simple, How the World Can Be the Way It Is, and he edited You Have to Say Something, a collection of Dharma talks by Dainin Katagiri.
So, sit back, relax, and have a nice Minnesota Molotov. Nah, I just made that one up, but bartender scientists, please get on that.
Podcast: Play in new window | Download
Books
Web Links
Music for This Episode
Shakuhachi Meditations
The music heard in the middle of the podcast is from Rodrigo Rodriguez's CD, Shakuhachi Meditations. The tracks used in this episode are: