Episode 91 :: Noah Levine :: The Heart of the Revolution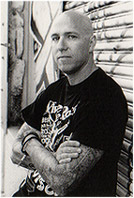 Noah Levine
Dharma Punx founder Noah Levine speaks with us about his new book, The Heart of the Revolution.
Many of us who come to a Buddhist practice in contemporary Western society, come to it from many directions. We're interested in the culture of Japan. We have a martial arts practice. We have some suffering in our life, and whatever we've been doing just isn't working. Often this suffering manifests in unhealthy ways, increasing our pain rather than helping us find release.
But if we do find this practice as a way to deal with our hurts, as many of us have, we come to experience at first a little relief, and over time even more. Once our big pain is gone, we may have the tendency to stop there, or only do the practice enough to maintain our ability to cope with the challenges in our daily lives. And that's fine, there's nothing wrong with personal development and healing!
Some people, however, those with passion and the skills of natural leadership, take another step. In addition to their own ongoing practice, they go out of their way to take on the additional work of bringing this practice to others in need. They lend their skill, their talent, and their compassion for others to the development of support structures to assist others suffering as they have been. My guest today is one of the very best examples of someone who has triumphed over tremendous adversity, and gone the extra marathon number of miles to help others.
Noah Levine is a Buddhist teacher, author and counselor. He is trained to teach by Jack Kornfield of Spirit Rock Meditation Center in Woodacre, CA. He teaches meditation classes, workshops and retreats nationally as well as leading groups in juvenile halls and prisons. Noah holds a masters degree in counseling psychology from CIIS. He has studied with many prominent teachers in both the Theravadan and Mahayanan Buddhist traditions. Noah currently lives in Los Angeles, CA
So, sit back, relax, and have a nice mango orange juice.
Podcast: Play in new window | Download
Quotes
"Againt Greed – Against Hatred – Against Delusion AGAINST THE STREAM!" — Noah Levine
Books
Vidoes
Web Links
Music for This Episode
Chikuzen Shakuhachi
Series
The music heard in the middle of the podcast is from the Chikuzen Shakuhachi Series, Volume 1, courtesy of Tai Hei Shakuhachi. The tracks used in this episode are: