Episode 126 :: Gary Watts :: Buddhist Police Support Network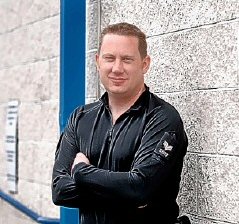 Gary Watts
Gary Watts speaks with us about the Buddhist Police Support Network.
Preconceived notions. We all have them. Sometimes this mental shorthand provides a bit of efficiency in navigating the hectic waters of our day. But if we allow these notions to always determine our actions, and don't question whether they are accurate, our misperceptions might close us off to other ways of seeing and interacting with one another.
This is particularly so when we lump people into certain roles. Those who are in those roles are then challenged not only by the attitudes and views of their peers, but everyone else. Finding the best way to positively represent ourselves and others in whatever role we find ourselves can be difficult, particularly when our own way of looking at the world may be a little different from the norm. There are people who do this everyday, subtlely encouraging positive change.
Sergeant Gary Watts is the Neighborhood Team Leader at Falmouth. He joined Thames Valley Police from the Royal Air Force and transferred to Devon and Cornwall Police in 2001. In both forces Gary had a broad range of experiences including patrol, the Criminal Investigation Department, Proactive Units, and Neighbourhood Policing. The majority of his service has been within Neighbourhood Policing as a Beat Manager, Team Leader, and as the Force PACT Development Officer involved with the training and development of Neighbourhood Policing. Gary is also responsible for schemes that are widely used in Cornwall including Street Reps and Speed Watch.
So, sit back, relax, and have a nice Earl Gray.
Podcast: Play in new window | Download
Web Links
Follow @BuddhistPolice

Music for This Episode Courtesy of Rodrigo Rodriguez
The music heard in the middle of the podcast is from Rodrigo Rodriguez. The track used in this episode is "For Two Shakuhachi" from his CD, Traditional and Modern Pieces: Shakuhachi.