Episode 164 :: Sebene Selassie :: New York Insight Meditation Center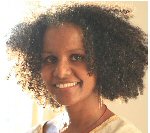 Sebene Selassie
Sebene Selassie, Executive Director of New York Insight Meditation Center, joins us to speak about organizational models in contemporary Western sanghas.
Times change. We're not in Deer Park or Vulture's Peak two and a half thousand years ago, we're in Central Park and Pike's Peak in the twenty-first century. What people do, what we think, how we relate to one another, our societal constructs, have evolved, and the ways in which our institutions reflect the needs of the people they serve are evolving, too.
Sebene Selassie received a BA from McGill University where she majored in Comparative Religious Studies and minored in Women's Studies, and an MA in Media Studies from the New School. For 20 years she has worked with children, youth, and families in underserved communities as a coordinator, manager and director of social service and arts programs; she specializes in youth development and youth media. Sebene has worked as a consultant combining social change leadership and mindfulness practices including building inclusive communities, creating learner-centered curricula, leading social action arts workshops, and teaching meditation. She is a graduate of the Community Dharma Leaders Program at Spirit Rock Meditation Center in Woodacre, CA and a current student of the Professional Coaching Course training program at New Ventures West.
So, sit back, relax, and have a nice McNulty's Nectar.
Podcast: Play in new window | Download
Web Links
Music for This Episode Courtesy of Rodrigo Rodriguez
The music heard in the middle of the podcast is from Rodrigo Rodriguez. The track used in this episode is "Wood and Bamboo" from his CD, Traditional and Modern Pieces: Shakuhachi.