Episode 199 :: Karen Maezen Miller :: Paradise in Plain Sight: Lessons from a Zen Garden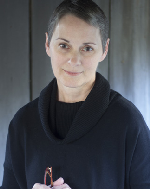 Karen Maezen Miller
Karen Maezen Miller joins us to speak about her new book, Paradise in Plain Sight: Lessons from a Zen Garden.
The surface of every moment contains the infinite depths of zen. We see this in practice with the tea ceremony, we capture it with haiku, with the music of the shakuhachi flute you're hearing at this moment, with every breath we take, and the single fallen leaf. We experience it in places, too, those physical manifestations of zen, and in the work to create the space of a zen garden.
Karen Maezen Miller is the author of Hand Wash Cold, Momma Zen, and most recently Paradise in Plain Sight. She's also a Zen Buddhist priest, meditation teacher, wife, and mother. I would also like to thank our old friend Kim Corbin of New World Library for arranging today's interview.
So, sit back, relax, and have a nice Ocha.
Podcast: Play in new window | Download
Video
Books
Web Links
Music for This Episode Courtesy of Rodrigo Rodriguez
The music heard in the middle of this podcast is from Rodrigo Rodriguez. You can visit his website to hear more of his music, get the full discography, and view his upcoming tour
dates.