Episode 240 :: Karma Yeshe Rabgye :: Ripples in the Stream: A Pragmatic Journey Through Gautama Buddha's Teachings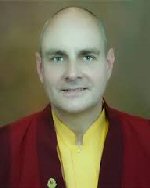 Karma Yeshe Rabgye
Yeshe Rabgye joins us to speak about pragmatic aspects of Buddha's teaching.
What's it like to be a monastic in a Tibetan tradition, teaching secular mindfulness in India? Oddly enough, this combination does exist, and a secular approach to Buddhism is of more interest than traditional Buddhism, even when the teacher is monastic.
Karma Yeshe Rabgye is a Western Monk in the Kagyu tradition of Tibetan Buddhism. Originally from England, he now lives in Ashoka Buddhist Temple, Khuda Ali Sher, Northern India, where he teaches Buddhism and meditation classes to people of all ages. Although Yeshe learnt from the great Tibetan Buddhist masters in exile, his Western background forced him to question some difficult elements of the teachings, in particular to distinguish those teachings that were essential aspects of the path from those that were mere cultural embellishments. Life's Meandering Path stems from this questioning and is aimed at a more secular and skeptical audience. Yeshe spent several years in a monastery in the foothills of the Himalayas teaching young monks basic Buddhist philosophy and meditation. He now offers teachings freely, does not demand students to blindly accept what he says, but instead invites them to examine their own minds and experiences to discover the validity of Gautama Buddha's teachings.
So, sit back, relax, and have a nice Oolong, with just a hint of mint.
Podcast: Play in new window | Download
Books
Web Links
Music for This Episode Courtesy of Rodrigo Rodriguez
The music heard in the middle of this podcast is from Rodrigo Rodriguez. You can visit his website to hear more of his music, get the full discography, and view his upcoming tour dates.