Episode 250 :: Lama Tsomo :: Why Is the Dalai Lama Always Smiling: A Westerner's Introduction and Guide to Tibetan Buddhist Practice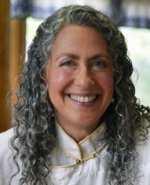 Lama Tsomo
Lama Tsomo joins us to speak about her book, Why Is the Dalai Lama Always Smiling: A Westerner's Introduction and Guide to Tibetan Buddhist Practice.
We have such a wide range of learning and practice opportunities with Buddhism in contemporary Western culture. It may even be a bit bewildering, having so much to choose from, that we find ourselves in need of not just texts of doctrine, but guidance and insight about what a particular tradition might mean to us, as contemporary Westerners.
Born into a Midwestern Jewish household, Lama Tsomo followed a path of spiritual inquiry that ultimately led to her ordination as one of the few American female lamas teaching Tibetan Buddhism. She now speaks Tibetan fluently and has done extensive spiritual retreats both in the U.S. and abroad, deepening her understanding and mastery of Tibetan Buddhism under the tutelage of Tulku Sangak Rinpoche, a primary holder of the Namchak lineage of Tibetan Buddhism and spiritual head of the Namchak Foundation. Rinpoche has asked Lama Tsomo to oversee the planning and construction of the Namchak Retreat Ranch, and she does so through her service on the board of the Namchak Foundation, an educational resource for a national learning community.
Special thanks to Kate Cooney and Rob Nissan for their coordination of today's interview.
So, sit back, relax, and have a nice Po cha.
Podcast: Play in new window | Download
Books
Why Is The Dalai Lama Always Smiling
Web Links
Music for This Episode Courtesy of Rodrigo Rodriguez
The music heard in the middle of this podcast is from Rodrigo Rodriguez. You can visit his website to hear more of his music, get the full discography, and view his upcoming tour dates.