Episode 265 :: Tim Macejak :: Zen Unleashed: Everyday Buddhist Wisdom from Man's Best Friend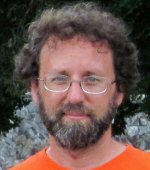 Tim Macejak
Tim Macejak joins us to speak about his book Zen Unleashed: Everyday Buddhist Wisdom from Man's Best Friend.
A few of you may know that I've had dogs and various other creatures in my immediate family, but mostly dogs. You may have even heard me make reference to them being my best teachers, in patience, in kindness, in being present, in love. As it turns out there is some synchronicity with their fine example, and Buddhism.

Tim Macejak began practicing Zen in the early 1980's and has alternated between formal practice at Zen Centers and an informal at-home practice. He currently is co-leader of a Buddhist meditation group at the Anamosa Men's Reformatory (a state penitentiary), and a member of the Cedar Rapids Zen Center. He is an employee of the United States Postal Service and a dog lover. He lives in Anamosa, Iowa, with his wife Teresa. Sheila currently resides at her home in Iowa. Like most dogs, she lives by Buddhist principles, being in the now. When she's not napping, Sheila enjoys taking car rides, playing Frisbee, and barking at people and things. As part of her Buddhist practice, Sheila is no longer chasing large farm equipment, and appears to be making an effort to be friendlier with the cat next door. This is hit and miss though.
So, sit back, relax, and have a nice Black Dog Ale.
Podcast: Play in new window | Download
Books
Web Links
Music for This Episode Courtesy of Rodrigo Rodriguez
The music heard in the middle of this podcast is from Rodrigo Rodriguez. You can visit his website to hear more of his music, get the full discography, and view his upcoming tour dates.