Episode 276 :: Éowyn Ahlstrom :: Embodiment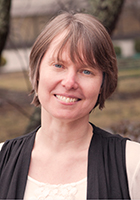 Éowyn Ahlstrom
Éowyn Ahlstrom joins us to speak about embodiment in Buddhism, and secular mindfulness programs.
There's a word that confused me a great deal when it continued to show up in dharma talks, and in secular mindfulness programs. The very concept of embodiment was foreign to me. Of course you may be thinking that was due to some dissociation from my own body, and you would be right; it was very difficult for me to deal with this fathom long form, let alone open to the potential of befriending it. Since that time, the experience of embodiment has been invaluable in my practice of being here now.
Éowyn Ahlstrom, LMT, E-RYT 500, teaches programs in yoga and meditation and sees private clients for individualized practice guidance and massage therapy sessions. She is a faculty member at the UMass Medical School's Center for Mindfulness and for the last ten years has often taught yoga for retreats at the Insight Meditation Society. Éowyn first encountered practice more than twenty years ago and has been avidly engaged ever since. She also chose to study bodywork from a clear conviction that our times require the re-integration of body and mind.
So, sit back, relax, and have a nice Catherine's Comfortable tea.
Podcast: Play in new window | Download
Web Links
Music for This Episode Courtesy of Rodrigo Rodriguez
The music heard in the middle of this podcast is from Rodrigo Rodriguez. You can visit his website to hear more of his music, get the full discography, and view his upcoming tour dates.