Episode 291 :: Anurag Gupta :: Unconscious Bias in Buddhism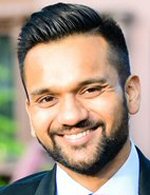 Anurag Gupta
Anurag Gupta joins us to speak about how implicit bias has much to teach us about relating to one another in our sanghas.
What biases do you have? What may come to mind when you hear that question may be a list of what is known to you, and it may be accompanied by some sensitive feelings about it, too: Yay, bias is finally being asked about! Or, Boo, that's not dharma, dharma is about dissembling unhelpful identity constructs! Though it may be difficult, and it may even conflict with our ideas, our templates, about Buddhism, there is value in honest, open exploration of what's encountered in life. Including bias, what we see… and perhaps especially the bias we may be ignorant of.
Anurag Gupta or Anu is the Founder & CEO of BE MORE, a social enterprise that employs in-person and online training programs to eradicate bias.. He is also a licensed attorney, an academic researcher, and a mindfulness expert. Prior to founding BE MORE, Anu worked with various social enterprises and research institutes globally on improving health and social outcomes for neglected populations. His work has been profiled on the Huffington Post, NPR, and New York Post. He has trained over 3,000 professionals in hacking bias, including at Middle Project's Annual Conferences, the National IHI Forum, and the Cavendish Global Health Conference.
So, sit back, relax, and have a nice Communi-tea.
Podcast: Play in new window | Download
Web Links
Music for This Episode Courtesy of Rodrigo Rodriguez
The music heard in the middle of this podcast is from Rodrigo Rodriguez. You can visit his website to hear more of his music, get the full discography, and view his upcoming tour dates.