Episode 76 :: Dave Smith :: Meditation Nashville Style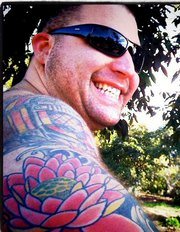 Dave Smith
Dave Smith talks with us about growing up a dharma brat, and meditation Nashville style.
Hi, everyone. As many of you know, I was fortunate enough to attend a Secular Dharma retreat at Barre Center for Buddhist Studies recently, led by Stephen and Martine Batchelor. One of the best aspects to that retreat, in addition to meeting several people face to face that I've only seen through the magic of computers, was making new friendships with some truly impressive people. We practitioners really do come to this path from such a wonderful diversity of backgrounds and stories, and how we share this teaching with others manifests in very inspirational ways.
Dave Smith believes that the dharma has saved his life three times. He began his dharma practice in 1993 studying an sitting with various teacher at the Insight Meditation Society in Barre MA. After a solid decade of drug and alcohol abuse, touring in ska-punk bands and living in Amsterdam he hit bottom and became actively involved with 12 step recovery. He just recently graduated from a year-long training program to teach and facilitate meditation groups under the guidance of Noah Levine. Dave is dedicated to bring mindfulness practice into jails, rehabs and any institution that will allow him to do so and also has plans to continue his study and practice with Noah to become an empowered teacher of buddha dharma. Dave lives in Nashville TN where he also enjoys writing, recording and performing live music.
Just a note to the listeners that all the books Dave mentions in today's interview are on the web page for this episode, along with Dave's CD's. If you're interested in the training program we talk about, that's linked, too.
So, sit back, relax, and have a nice orange juice with a touch of mango.
Podcast: Play in new window | Download
Books
CD's
Web Links
Meditation Instructor and Group Facilitator Training
Music for This Episode
Rodrigo Rodriguez
The music heard in the middle of the podcast is from Rodrigo Rodriguez. The tracks used in this episode are: