Episode 88 :: David Chapman :: Buddhism for Vampires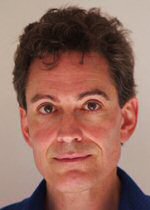 David Chapman
David Chapman speaks with us about Buddhism for Vampires in our second Halloween special.
Hi everyone, and happy Halloween! Today we're going to celebrate my personal favorite holiday with our second Halloween special. The focus is on David Chapman's website, Buddhism for Vampires.
David is educated and has worked in the fields of science, engineering, and business, which have each taught him to ask skeptical questions from their own perspectives. He applies this to his investigation of the Aro Buddhist tradition, and blogs about his findings, interests, and ideas on several blogs including Meaningness, Approaching Aro, and of course Buddhism for Vampires.
So, sit back, relax, and have a nice True Blood. AB Negative, with just a hint of O Positive.
Podcast: Play in new window | Download
Quotes
"Buddhism for Vampires is a playful, yet deadly serious, look at the dark side of Buddhism. We are all monsters, but we can embrace our monstrosity while retaining our human nobility." — David Chapman
Books
Web Links
Music for This Episode
Rodrigo Rodriguez
The music heard in the middle of the podcast is from Rodrigo Rodriguez. The tracks used in this episode are: