Episode 99 :: Dr. Rick Hanson :: Just One Thing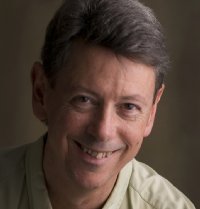 Dr. Rick Hanson
Dr. Rick Hanson speaks with us about his new book, Just One Thing: Developing A Buddha Brain One Simple Practice at a Time.
It's a daunting task, changing our minds. Not the simple, "I wanted a mocha, but maybe a latte would be better" kind of changing our minds, that's pretty easy. What I mean is the effort we need to put in to fundamentally change how our mind functions. As we've seen from several of the recent interviews with our friends in the scientific community who study the effects of contemplative practices, there are distinct and measurable changes in the brain itself. And if the underlying tools are changed, so is what they create.
This updating of our wetware doesn't have to be quite so imposing a proposition. We can, in the same way we climb mountains one step at a time, do just one thing at a time.
Rick Hanson, Ph.D., is a neuropsychologist and author of Just One Thing: Developing a Buddha Brain One Simple Practice at a Time. Founder of the Wellspring Institute for Neuroscience and Contemplative Wisdom and Affiliate of the Greater Good Science Center at UC Berkeley, he's taught at Oxford, Stanford, and Harvard, and in meditation centers in Europe, North America, and Australia. An authority on self-directed neuroplasticity, Dr. Hanson's work has been featured on the BBC, NPR, Consumer Reports Health, and U.S. News and World Report, and his articles have appeared in Tricycle Magazine, Insight Journal, and Inquiring Mind. A summa cum laude graduate of UCLA, Dr. Hanson is a trustee of Saybrook University. He also served on the board of Spirit Rock Meditation Center for nine years, began meditating in 1974, trained in several traditions, and leads a weekly meditation gathering in San Rafael, CA.
So, sit back, relax, and have a nice South Indian Iyerpadi.
Podcast: Play in new window | Download
Books
Web Links
Music for This Episode
Shakuhachi
Meditations
The music heard in the middle of the podcast is from Rodrigo Rodriguez's CD, Shakuhachi Meditations. The tracks used in this episode are: