What's Burning in the Fire Sermon?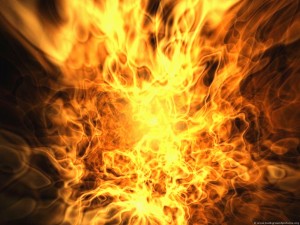 Perhaps Gotama's most famous discourse among Westerners is the one we call the Fire Sermon. It is included in most anthologies of "the Buddha's sayings"; in that quintessential summary of Consensus Buddhism, the PBS documentary The Buddha, it's one of the few discourses quoted at any length. On the show, professor of Asian cultures D. Max Moerman explicates it this way:
"We're on fire. We may not know it but we're on fire, and we have to put that fire out. We're burning with desire. We're burning with craving. Everything about us is out of control."
That's the way I always understood it, too. Gotama's trying to tell us that our greed, hatred and delusion is like a raging fire incinerating our whole being. It's a metaphor that fits comfortably with our Western view of things; we're already primed to believe that we're burning with lust, greed and anger, sins that lead us to the fires of Hell.
Recently, however, as I was listening to Stephen Batchelor analyze the text in one of his 2006 lectures on Gotama's biography, it occurred to me that there was something much more subtle and profound going on here. What's really burning in the Fire Sermon?
"Bhikkhus, all is burning. And what, bhikkhus, is the all that is burning? The eye is burning, forms are burning, eye-consciousness is burning, eye contact is burning, and whatever feeling arises with eye contact as condition — whether pleasant or painful or neither-painful-nor-pleasant– that too is burning. Burning with what? Burning with the fire of lust, with the fire of hatred, with the fire of delusion; with sorrow, lamentation, pain, displeasure, and despair, I say."

S. 35:28
Gotama goes on to make the same statement about each of the sense bases, which include the body and the mind. He does mention inward states, which is consistent with our typical way of thinking about this text. But the third sentence here should alert us that Gotama has a more penetrating analysis in mind. We might recall another occasion on which Gotama uses the fire analogy in regard to the senses:
"Monks, consciousness is reckoned by the particular condition dependent upon which it arises. When consciousness arises dependent on eye and forms, it is reckoned as eye consciousness . . . Just as fire is reckoned by the particular condition dependent on which it burns . . . When fire depends on logs, it is reckoned as a log fire . . ."

M. 38
In other words, the Three Fires kindle themselves at a much more basic level than our thoughts and emotions. As soon as our senses engage with their objects, Gotama says, infatuation, aversion and confusion are already present. In this analysis, the fuel of the Three Fires is our fundamental perception of the world.
This is especially driven home if we read the Fire Sermon in its context in the Samyuta Nikaya, where it appears in a series of discourses on the theme of the Six Sense Bases. The message of these suttas is that our perceptions are "the All", and that they are themselves the source of our suffering. Here, for instance, is a passage from the sutta that immediately precedes the Fire Sermon:
"Bhikkhus, without directly knowing and fully understanding the all, without developing dispassion toward it and abandoning it, one is incapable of destroying suffering. And what, bhikkhus, is the all? The eye and forms and things to be cognized by eye-consciousness, etc."

S. 35:27
He seems to be calling on us to be able to recognize and let go of a grasp that is preconscious, that happens before we're normally even aware of it.
To understand how this works, we need to look at how consciousness and craving are linked in Gotama's analysis of Dependent Origination:
". . . With consciousness as condition, name-and-form [come to be]; with name and form as condition, the six sense bases; with the six sense bases as condition, contact; with contact as condition, feeling; with feeling as condition, craving; with craving as condition, clinging . . ."

S. II, 1
At the base are consciousness and namarupa, translated here as "name-and-form." The translation breaks a single concept into two, which makes it difficult to understand what the term means. It is derived from the Sanskrit of the Vedic Upanishads, where it is used to refer to the process by which the original unity of Brahman was differentiated into all of the recognizable identities of the universe. Namarupa essentially refers to the quality of perception that results in distinguishable forms. Without forms, we would have nothing to name; without names, we couldn't identify forms. Form and our ability to identify it are inextricably linked; namarupa is therefore the condition for our sensory awareness, for without it there could not be distinguishable colors, shapes, sounds and smells.
In two related passages from the Samyutta Nikaya, Gotama makes it clear that namarupa is central to sensory awareness:
"And what, friends, is name-and-form? Feeling, perception, intention, contact, attention: this is called name. The four great elements and the form derived from the four great elements: this is called form. And what, monks, is consciousness? There are these six classes of consciousness: eye-consciousness, ear-consciousness, nose-consciousness, tongue-consciousness, body consciousness, mind consciousness. This is called consciousness."

S. II, 3-4

"Then, monks, it occurred to me: "When what exists does consciousness come to be? By what is consciousness conditioned? " Then, monks, through careful attention, there took place in me a breakthrough by wisdom: "When there is name-and-form, consciousness comes to be; consciousness has name and form as its condition.
Then, monks, it occurred to me: "This consciousness turns back; it does not go further back than name-and-form. It is to this extent that one may be born and age and die, pass away and be reborn, that is, when there is consciousness with name-and-form as its condition, and name-and-form with consciousness as its condition . . ."

S. II, 104
If we return to the chain of Dependent Origination we shared above, the meaning of this last statement becomes clear. There is no consciousness without namarupa; there is no namarupa without consciousness; and consciousness is always consciousness of the six sense bases. So when the Fire Sermon tells us that the senses and their objects burn with the Three Fires, Gotama is saying that our consciousness arises preconditioned by them. The craving and aversion we recognize in ourselves are conditioned by the very nature of our perceptual apparatus, which is primed to produce them. It appears that Gotama recognized, two and a half millennia ago, that what presents itself to our higher cognitive functions has already been filtered through a more primitive part of our psychophysical system, and is shaped by urges and repulsions of which we may normally be unaware — an observation a modern neurologist would confirm.
The implication here is that, if our psychophysical nature is where the fires are burning, that is where they need to be extinguished.   This is quite different from the traditions that teach that our basic nature is enlightened, that our minds are naturally radiant,  and if we only clear ourselves of the taints we will experience them that way.   As Gotama tells us in the Samana-Mundika Sutta (M. 78), if that were the case, any newborn infant would be the equal of a fully awakened contemplative.   Because the default mode of our sensory apparatus is craving, long and diligent practice is required to recognize the fires of infatuation, aversion and confusion and reform our habitual reactions to them.   This is why mindfulness of the body is the central dharma practice, for "without directly knowing and fully understanding the all, without developing dispassion toward it and abandoning it, one is incapable of destroying suffering."