Episode 168 :: Jennifer Niedzielski :: Mindful Moms Network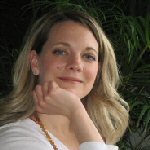 Jennifer Niedzielski
Jennifer Niedzielski joins us to talk about her work and joys with Mindful Moms Network.
Hi, everyone, and happy Mothers' Day. We're going to talk about mindfulness and how it relates to motherhood, one of the most challenging, stressful, meaningful, and rewarding efforts anyone can do. For all the mothers out there who take the time to take care of your mind's state so you can take care of us? Thank you. Your caring ripples throughout the generations of humanity. We appreciate you, we need you, and we love you.
Jennifer Niedzielski is a mother of three girls full time, pursuing her passion for teaching on the evenings and weekends. She has been an educator for 15 years, and is currently a part-time college instructor and yoga instructor in Minneapolis, MN. Jen has her B.A. from the University of Michigan, and her M.A. from Western Michigan, in Education, and is a 200 hour registered yoga teacher. Mindfulness, yoga, and meditation have been passions of hers for over a decade. What started as a blog, quickly gained momentum, and with the partnership of her college friend Ronelle, Mindful Moms Network was born in August of 2011.
So, sit back, relax, and have a nice warm milk. Not too hot, you can test it on your wrist.
Podcast: Play in new window | Download
Web Links
Music for This Episode Courtesy of Rodrigo Rodriguez
The music heard in the middle of the podcast is from Rodrigo Rodriguez. The track used in this episode is "Cross of Light" from his CD, Shakuhachi Meditations.