Episode 253 :: Gregory Lopez :: Early Buddhist Mindfulness and Stoic Mindfulness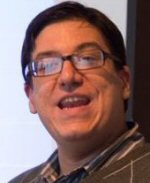 Gregory Lopez
Gregory Lopez joins us to speak about how early Buddhist views of mindfulness compare and contrast with Stoic mindfulness.
Hi, everyone. Before we begin today's episode, I would like to mention that this podcast and the supporting website, discussion forums, our live, online Practice Circle and other services provided by the Secular Buddhist Association are supported by you. If you find this episode or any other offerings helpful to you in some way, I ask that you take a moment and visit secularbuddhism.org, and click on the Contributions button. There are many ways you can help which are listed on that page, and if you make a donation, it's tax deductible and it helps ensure the SBA is able to continue the exploration of secular Buddhism. Thank you; we're glad to have you join us in the conversation.
Stop me if you've heard this one: some Buddhists feel that mindfulness is being co-opted. Well, I'm not going to stop, because secular Buddhists are fairly experienced with pushing back on this sense of entitlement of all things Buddhist having to be done a certain way. Yes, change is hard, and new manifestations of practices and sometimes even just words can throw some folks into a tizzy. The interesting thing is, this is not a new phenomenon, and mindfulness isn't the exclusive purview of that tradition or even domain; the Stoics had their own mindfulness style.
Greg Lopez has been a practicing secular Buddhist since 2008. He is also the founder and facilitator of New York City Stoics, as well as co-organizer of Stoic Camp NY and STOICON 2016. In addition, he is Director of Membership for the Stoic Fellowship. His academic background is in science and pharmacy. Greg is a frequent speaker and presenter at science- and philosophy-related events and on behalf of SMART Recovery NYC, where he currently serves as President. During his spare time, Greg pursues his interests in meditation, philosophy, statistics, effective altruism, and swing dancing.
So, sit back, relax, and have a nice Stoic Pale Ale. I'm not kidding, Bifferhaus Brewing Company has Stoic Pale Ale.
Podcast: Play in new window | Download
Web Links
Music for This Episode Courtesy of Rodrigo Rodriguez
The music heard in the middle of this podcast is from Rodrigo Rodriguez. You can visit his website to hear more of his music, get the full discography, and view his upcoming tour dates.