Episode 324 :: John Danvers :: Exeter Meditation Circle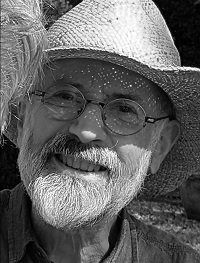 John Danvers
John Danvers joins us to speak about the in-person Exeter Meditation Circle.
Secular Buddhism has grown in the ten years since this podcast started socializing the term, and each week I hear from people who want to know if there is a Secular Buddhist group near them. By the next ten years I hope to be able to answer, "Yes, and here's how you find them," and in the meantime there are some groups beginning to reach out to others.
John Danvers is an artist, writer and poet based in southwest U.K. John's work is rooted in contemplative enquiry – drawing on over 50 years of Zen meditation practice. He is the author of three books: Picturing Mind; Agents of Uncertainty; and Interwoven Nature. He has exhibited widely in the UK, Australia and North America. John's poems have appeared in many poetry magazines and journals. He retired in 2012 from his role as Associate Professor in Philosophy & Art Practice at Plymouth University, UK, and is currently an Honorary Research Fellow at Exeter University. Since 2012 he has been the Buddhist chaplain at Exeter University. In 2016 John established Exeter Meditation Circle – a secular Buddhist group that meets on a weekly basis throughout most of the year. He would like to make contact with other secular Buddhist groups in the UK.
So, sit back, relax, and have a nice Oolong tea.
Podcast: Play in new window | Download
Web Links
Music for This Episode Courtesy of Rodrigo Rodriguez
The music heard in the middle of this podcast is from Rodrigo Rodriguez. You can visit his website to hear more of his music, get the full discography, and view his upcoming tour dates.