Episode 49 :: Tim Ward :: What The Buddha Never Taught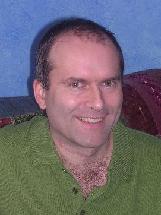 Tim Ward
Today's guest is Tim Ward, author of What The Buddha Never Taught, about his experiences as a Theravadin monk in Thailand.
Hi, everyone. On this podcast, we've had two former monks who've written books about their experiences — Stephen Batchelor and Stephen Schettini — and today we'll have our third with Tim Ward. There is an underlying thread in their experiences, in which personal resonance with the particular form of practice… was lacking. It's not to say that it's not there for many, if not most Westerners who take on the robes. But the reasons why some have left begging bowl behind are very similar, if not identical.
Many of the discussions lately on the Facebook Fan Page for The Secular Buddhist have centered on this topic that what's right for the individual, culturally, may not be right for another. And that's okay! Secular Buddhism is about creating an opportunity for practice, and fostering communities of support for those who are more comfortable with a secular world view. Many of us are less comfortable with the trappings of organized religion and supernatural explanations, and find more resonance with practicing in our own, non-traditional way.
As Buddhism expands in the West, it is inevitable that it find its own forms which reflect the culture in which it finds itself. Some of us deal quite well with faith approaches to practice, others take a more skeptical view. But our practice, that of the reducing of suffering of self and others, remains. We share this vision, and however we get there, however winding the path, I find that the core practice of that path is the same.
Published in seven countries and five languages, What the Buddha Never Taught was a bestseller in Canada and a book-of-the-month selection in the US. It has been used as a classroom text in several universities as a great introduction to living Buddhism in the Therevada tradition. It was, however, notorious in Thailand for its candid observations.
Tim Ward is the author of five books, including three spiritual travel adventures based on his six years living in Asia. His stories have appeared in thirteen anthologies, including Best Travel Writing 2006 and 2010. Ward's commentaries on Asian life and culture have been broadcast by CBC Radio, and he gives frequent public talks based on his books. Tim still travels to South and East Asia several times a year, thanks to his work as an international communications consultant for economic, environmental, and development organizations.
So, sit back, relax, and have a nice flat Coke. Ice cold. No, really. No bubbles, ice cold Coke. It was one of my favorite drinks as a kid, and as many of you know, my growing up is still a long ways off.
Podcast: Play in new window | Download
Quotes
"If the world is crazy, maybe it needs a few sane people in the middle of it. Why do monks lock themselves up in monasteries? What's the good of solving your personal suffering if the solution keeps you isolated from everyone else's suffering?" — Tim Ward, What The Buddha Never Taught
"Apparently I couldn't meditate and do anything else in the same day. If this was true, then what was the value of meditation, unless I was going to spend my whole life in a wat? If I came here to meditate, then what was the point of this irritating chanting which clogged my brain like an advertising jingle?" — Tim Ward, What The Buddha Never Taught
"Do not speak unless you can improve on silence, said a Buddhist sage." — Tim Ward, What The Buddha Never Taught
"A few days ago Tan Casipo said to me, 'Some people come here with so much dust in their eyes it's unbearable to talk to them.' What does that say about the monkhood? He can't tolerate people with 'dust in their eyes.' All that these monks have developed here is a safe little self-centred world which they call holy because villagers bow down to them. Living in a forest and wearing a robe doesn't make you better than anybody else." — Tim Ward, What The Buddha Never Taught
"Earth to Bikkhu Bob, do you read me?"   "Bob to Boomer, roger, I read you. Presently orbiting the third jhana. Estimated re-entry in ninety seconds. Stand by." — Tim Ward, What The Buddha Never Taught
"The practice is enlightenment. Some people find this idea not to their liking. They want to get enlightenment in a flash. This way they become attached to something that doesn't exist. Enlightenment isn't a thing you get." — Tim Ward, What The Buddha Never Taught
"Even without his robes an arahant is recognized simply by the effect his metta has in a crowd." — Tim Ward, What The Buddha Never Taught
Books
Web Links
Music for This Episode
Shakuhachi Meditations
The music heard in the middle of the podcast is from Rodrigo Rodriguez's CD, Shakuhachi Meditations. The tracks used in this episode are: