Episode 56 :: Kevin Griffin :: A Burning Desire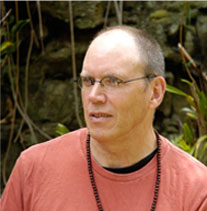 Kevin Griffin
Kevin Griffin speaks with us about his book A Burning Desire: Dharma God and the Path of Recovery.
Hi, everyone, thanks for being here. We've had guests on the podcast before who've spoken about how Buddhist teaching and practice have impacted addiction recovery programs, and often the subject of the classic Twelve Step program comes up. Many secularists, Buddhists, and atheists have problems with certain steps, specifically, those about higher powers and specifically God.
Kevin Griffin is the author of One Breath at a Time: Buddhism and the Twelve Steps and A Burning Desire: Dharma God and the Path of Recovery (Hay House 2009). A longtime Buddhist practitioner and 12 Step participant, he is a leader in the mindful recovery movement and one of the founders of the Buddhist Recovery Network. Kevin has trained with the leading Western Vipassana teachers, among them Jack Kornfield, Joseph Goldstein, and Ajahn Amaro. His teacher training was as a Community Dharma Leader at Spirit Rock Meditation Center in Marin County, CA.
Kevin teaches internationally in Buddhist centers, treatment centers, professional conferences, and academic settings. He specializes in helping people in recovery connect with meditation and a progressive understanding of the 12 Steps. His events range from evening classes, to daylong workshops, and long weekend silent retreats.
So, sit back, relax, and have a nice Clouds & Mist Organic Green tea.
Podcast: Play in new window | Download
Books
Web Links
Music for This Episode
Shakuhachi Meditations
The music heard in the middle of the podcast is from Rodrigo Rodriguez's CD, Shakuhachi Meditations. The tracks used in this episode are: