Episode 93 :: Philippe Goldin :: Brain Changes with Meditation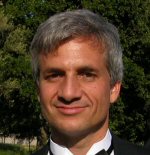 Dr. Philippe Goldin
Dr. Philippe Goldin speaks with us about changes in the brain from meditation, why psychological studies deal with placebo effects, and parent child mindfulness meditation training on family relationships.
Hi, everyone. It's been a very active few weeks with the release of the new Secular Buddhist Association website, and we're seeing active participation on both Comments on the episode pages, and in the Discussion forum. Thank you very much for taking an active part in the engagement with others in the ongoing development of our secular Buddhist community. We have many exciting things coming soon, including upcoming interviews with Sue Blackmore, both Stephen and Martine Batchelor, John Peacock, and of course ongoing talks with scientists like Dr. Rick Hanson on the frontiers of meditation's effects on the brain, so stay tuned.
As we do talk about science and various developments in therapy, we need to make comparisons between meditation and other treatments. How does participation in a Mindfulness Based Stress Reduction program, for example, compare to aerobic exercise for social anxiety? And is there a difference between what participants self report, and what we see happening in an fMRI scan? The results of these controlled, randomized studies can lead to what is most effective and helpful to people's suffering. That's what it's all about, after all, and that's what I like about good science: it clearly and unambiguously demonstrates its usefulness with evidence.
Dr. Goldin completed his Ph.D. in Clinical Psychology at Rutgers University, Clinical Psychology Internship at the UC San Diego / San Diego VA consortium, and is currently a postdoctoral researcher in the Department of Psychology at Stanford University. His clinical research focuses on (a) functional neuroimaging investigations of cognitive affective mechanisms in both healthy adults and in individuals with various forms of psychopathology, (b) the effect of mindfulness meditation and cognitive behavioral therapy on neural substrates of emotional reactivity, emotion regulation, and attention regulation, and (c) the effect of child-parent mindfulness meditation training on anxiety, compassion, and quality of family interactions.
So, sit back, relax, and have a nice cocoa. It is December, after all.
Podcast: Play in new window | Download
Videos
Web Links
Music for This Episode
Chikuzen Shakuhachi Series
The music heard in the middle of the podcast is from the Chikuzen Shakuhachi Series, Volume 1, courtesy of Tai Hei Shakuhachi. The tracks used in this episode are: