Episode 229 :: Dave Smith :: Ethical Mindfulness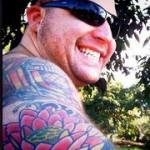 Dave Smith
Our friend Dave Smith returns to speak with us about his new book, Ethical Mindfulness.
Hi, everyone. Before we get started with today's episode, I want to remind the listeners that we've started a new podcast which may also interest you. It's called Present Moment: Mindfulness Practice and Science, and appears every other week, alternating with The Secular Buddhist. You'll find many of the same guests you've enjoyed and learned from here, as well as new researchers, teachers, and practitioners. You'll find Present Moment in the Science & Medicine section of iTunes, in Natural Sciences, or just do an iTunes Store search for Mindfulness, and look in the results in the Podcasts section. You can also visit the website, PresentMomentMindfulness.com. Thanks for checking it out, and if you like what you hear, please feel free to share it with others.
In traditional Buddhism, let alone in contemporary practice, mindfulness has become something of a challenging term. Do we mean "bare attention" to the present moment, without judgment? Is there an inherent moral quality with the practice, or is that code of conduct separate from sati? However we may view the right approach to mindfulness, we have the capacity as human beings to bring critical thinking, kindness, and openness to our experience of it in daily life.
Dave Smith is a Buddhist meditation teacher, addiction treatment specialist, and experienced speaker. Dave is trained to teach Buddhist meditation by Noah Levine (leVINE). He has extensive experience bringing meditative interventions into jails, prisons, youth detention centers and addiction treatment facilities. He is the guiding teacher and program director of the Against the Stream Nashville Meditation Center and teaches over 300 meditation classes and workshops a year. He provides direct services for mental health agencies, public libraries, and speaks nationally at Addiction and Behavioral Health conferences. Dave recently relocated to Los Angeles.
So, sit back, relax, and have a nice Oolong.
Podcast: Play in new window | Download
Books
Web Links
Music for This Episode Courtesy of Rodrigo Rodriguez
The music heard in the middle of this podcast is from Rodrigo Rodriguez. You can visit his website to hear more of his music, get the full discography, and view his upcoming tour dates.