Episode 230 :: Janet Surrey and Samuel Shem :: The Buddha's Wife: The Path of Awakening Together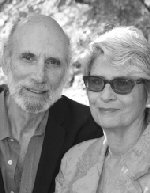 Janet Surrey and Samuel Shem
Janet Surrey and Samuel Shem join us to speak about their new book, The Budda's Wife: The Path of Awakening Together.
If I say the name Yasodhara, do you know who that is? Maybe you do, but have you taken some time to perhaps sit with what her life story would have been, what her experiences would have been like as the person who was married to Gotama before he became The Buddha? We know his story fairly well, but that of his at one time beloved, there is a richness there, too, and something to learn about the human heart.
Janet Surrey, PhD is a full Insight Dialogue Teacher. She is a faculty member of Metta's Relational Insight Meditation Program, facilitates a practice group in the Boston area, and co-teaches retreats. Jan has studied with a number of Vipassana teachers for over 25 years, and has worked with Gregory Kramer since 2007. Jan is a practicing clinical psychologist and founding scholar of the Jean Baker Miller Training Institute at the Wellesley Centers for Women. She is on the faculty and board of the Institute for Meditation and Psychotherapy.
Samuel Shem (a.k.a. Stephen Bergman), MD, is the author of several books of fiction including the bestseller The House of God. He is a doctor, novelist, playwright, and activist. A Rhodes Scholar, he was on the faculty of Harvard Medical School for three decades and founded the Bill W. and Dr. Bob Project in the Division on Addictions at Harvard Medical School. He divides his time between Boston and Tierra Tranquila, Costa Rica.
So, sit back, relax, and have a nice Key Lime tea.
Podcast: Play in new window | Download
Books
Web Links
Music for This Episode Courtesy of Rodrigo Rodriguez
The music heard in the middle of this podcast is from Rodrigo Rodriguez. You can visit his website to hear more of his music, get the full discography, and view his upcoming tour dates.