Episode 256 :: Charles Carstens :: Religious Conflict in Burma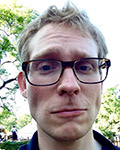 Charles Carstens
Charles Carstens joins us to speak about his experiences living in Burma, in a time of religious and ethnic turmoil.
We may shake our heads in sadness or perhaps disgust when we read in the news about some act of violence against one group of people, by another group of people. Sometimes religion is the given reason, the public one, the face of an underlying aversion, or perhaps it's an ethnic divide. There may be a sense of judgment, too, about how Buddhism is free from that kind of strife because the practice is so clearly against it.
But, that's not what's actually happening. Buddhism too has its share of those who are subtley and sometimes overtly encouraging acts of aggression and violence against others, in contradiction to what you and I may believe is closer to what Gotama had in mind. That may be so, but the fact remains, groups like the 969 movement are not shining examples of loving kindness.
Charlie Carstens is a Ph.D. candidate in the Study of Religion at Harvard University (GSAS). His field is Buddhist Studies, particularly the pre-colonial Buddhist literary traditions and social histories of Myanmar. Studying 18th and 19th century coronation rituals, his dissertation investigates issues in the study of loyalty, identity, leadership, social order, hierarchy, secularism, ritual, and political economy. Charlie obtained a M.T.S. in Buddhist Studies from Harvard Divinity School and a B.A. in Economics from Carleton College.
So, sit back, relax, and have a nice Tranquili-tea. Please, I mean that, now perhaps more than ever, this is a time to meet aggression with kindness.
Podcast: Play in new window | Download
Web Links
Music for This Episode Courtesy of Rodrigo Rodriguez
The music heard in the middle of this podcast is from Rodrigo Rodriguez. You can visit his website to hear more of his music, get the full discography, and view his upcoming tour dates.