Please read our Code of Conduct before participating in this community.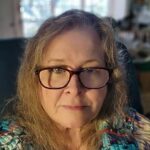 Joined: Oct 7, 2011
Last seen: Jun 2, 2023
I've been gone for a decade or so but was an active part of the community here since way back, appearing in Episode 4 of the podcast.
Ted met up with Jan, Dana, Mark and myself in the Skeptical Buddhist "Sky Sangha" in Second Life in the late "Aughts". In 2006 I'd created a sort of unstructured Buddhist meeting place where we all learned from each other: Buddhists from various lineages -- or (like me) no lineage, just interest and drawn to the actively attentive and logical approach of "Come see" that Buddhism teaches. The Skeptical Buddhist Sangha's members made for a strong start for the Secular Buddhist Association core team -- a natural and logical step in the evolution of an idea: to share knowledge, insight, and support in a grass-roots, bottom-up non-structured way instead of the traditional top-down approach.
You'll also find a few of my articles still on the website
Hope to get to know you in the forum Community.
Writer but really retired